Tile Roofs for Homes and Properties in Oldham & Rochdale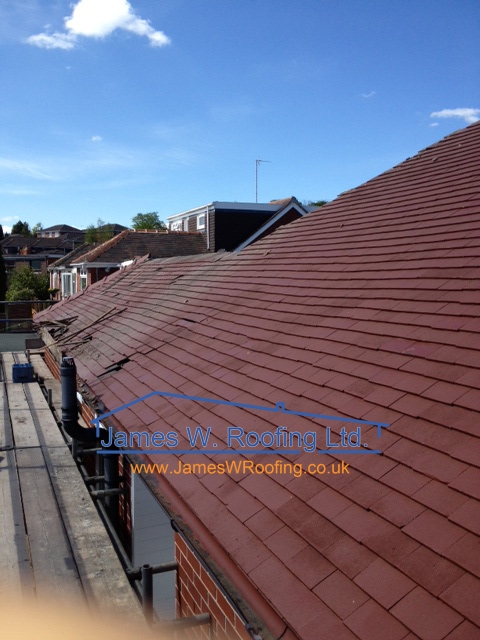 Tile roofs endure some of nature's toughest elements; yet despite the harshest weather, concrete and clay have been proven to resist wind,rain,and even fires. This resilience enables manufacturers to offer some of the longest warranties in the roofing industry.
Our team is based in Oldham, however we serve the entirity of Greater Manchester and can travel to your location for a free estimate.
Tile Roofs Fitted and Repaired
James W Roofing are an experienced local roofing team who are able to both fit and repair tile roofs. We will gladly work with property developers who are working on new build properties or help you in fitting a new tile roof to your extension to an existing property.
If you already have a tile roof then we are able to repair it for you at a significant cost saving compared to a full re-roof.
The colour palette for concrete and clay roof tile includes hundreds of selections with options ranging from a single colour tile to a matrix of up to five colours Styles range from flat to barrel-shaped tile, and either will change the appearance of a roof dramatically.
There is also a wide selection of carefully blended hues that range from subtle tints to vibrant colours, and wood and slate textures that simulate nature.
In addition to tile's unique beauty, most concrete and clay tile manufacturers typically offer a minimum 50-year limited warranty on their products. For consumers, this warranty covers their roofing material for as long as they own their homes.
Clay and concrete are one of the most cost-effective alternatives to your construction needs. Contrary to common misconceptions, tile roofing is not the most expensive component of building. Actually, when compared to its life-cycle of 50 to 100 years or more, tile provides the most economical solutions for your building requirements. Furthermore, tile roofing may be a better insulator than some other steep-slope roofing systems. The combined effect of the roof tiles, air space and decking allows for better air circulation and reducing direct heat transfer. As a result, a tile roof can lower air conditioning costs in hotter climates and produce more constant temperatures in colder regions, reducing potential ice accumulation.
Benefits of Concrete or Clay Tile Roofing:
Available in an endless variety of dimensional sizes and shapes
Available in dozens of designer colours
Colours and sizes may be blended to achieve stunning architectural results
Low maintenance
Water repellent
Extremely durable and very long-lasting
Fireproof
Highly resistant to wind and stormy weather
Low life-cycle cost